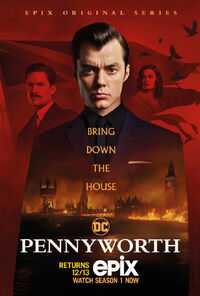 Pennyworth Wiki is a fan-driven encyclopedia that documents all things on the Epix TV show Pennyworth, and we need your help!
Pennyworth is a drama series based on DC characters created by Bob Kane with Bill Finger. It follows Bruce Wayne's legendary butler, Alfred Pennyworth (Jack Bannon), a former British SAS soldier who forms a security company and goes to work with Thomas Wayne (Ben Aldridge), Bruce's billionaire father, in 1960s London.
The series was renewed for a second season and is a highly regarded TV show, focusing on the lesser aspects of the DC franchise and offering a different take on the universe.
With 114 articles, 446 images, and 2,246 edits, we are the go-to place for all things Pennyworth!

Season 2
Pennyworth is back for Season 2!
The second season of Pennyworth was confirmed by Epix on October 30, 2019 and filming for the season began in January 2020. The season will consist of 10 episodes.
Pennyworth premiered on December 13, 2020 with the episodes one to four dropping weekly before a mid-season finale into the new year January 3, 2021. A great way to see in the new year! The rest of the season will air at a later date in 2021.
Are you excited?
Live action:
Arrowverse (Arrow, Batwoman, Birds of Prey, Black Lightning, Constantine, DC's Legends of Tomorrow, The Flash (1990), The Flash (2014), Supergirl) • Batman • Doom Patrol • Gotham • Green Lantern • Human Target • iZombie • Krypton • Lois & Clark: The New Adventures of Superman • Lucifer • Pennyworth • Powerless • Preacher • Smallville • Stargirl • Swamp Thing • Titans • DC Universe

Animated:
Batman: Caped Crusader • Batman: The Animated Series • Batman: The Brave and the Bold • Batwheels • Beware the Batman • DC Animated Universe (Batman Beyond, Justice League, Justice League Unlimited, The New Batman Adventures, Static Shock, Superman: The Animated Series, The Zeta Project) • Green Lantern: The Animated Series • Harley Quinn • Justice League Action • Super Friends • Teen Titans • Teen Titans Go! • Young Justice